Are You Ready To Get Back To Consistent Fun And Enjoyment With Your Horse?
JOIN THE BEST ONLINE PROGRAM IN THE WORLD, AND inside I will show you exactly how to unlock their body to have the "best ride ever" feeling every day!
_________________________________________
Are You Feeling Overwhelmed Looking After Your Horse & Want To Regain Your Confidence?
If you're a horse owner who has had enough of struggling with stiffness, crookedness, back pain and injuries with your horses, then this is a program you cannot miss.
Get ready to step into a new, effective way of training, so effective, that you can get back to confidently riding your horse…with more enjoyment, and a lot less stress!
Full physio based strengthening programme and ongoing support with Jenny Adamson, Equine Physiotherapist & Rehabilitation Specialist.
YES I WANT IN
Challenges You Might Be Facing...
Lack Of Motivation?
Some days you are motivated with your horse, other days you would rather poo pick and sweep the yard than exercise them?!
______________________________
Not Confident In What You're Doing?
You know you need to work on strengthening your horse, but don't know where to start, and what you have tried already hasn't yielded much in the way of results, or you're not confident in what you're doing?
______________________________
Feels Like An Uphill Struggle?
You know you need to work on your horse's strength and crookedness, to improve your rides, but it all feels like an uphill struggle, and you end up stuck, overwhelmed, unmotivated, and still not able to ride your horse?
YES I WANT IN
I can't say enough good things about Jenny and the content she has put together for her members. I am forever grateful!
 Caryn - Course Member

Just Imagine...
Being Able To Confidently Get Back To Riding Your Horse Without All The Fear, Stuckness & Confusion Getting In The Way...
Are you ready to step in and make

positive changes

to your exercise routines with your horse, embracing

new, exciting training methods,

so that you can get the

absolute best

from your horse?
Well, Let Me Introduce...
The Most Effective Equine Strength & Straightness Training Programme:
PHYSIO BASED strengthening programme and ongoing support with Jenny Adamson, Equine Physio & Rehab Specialist.
_____________________________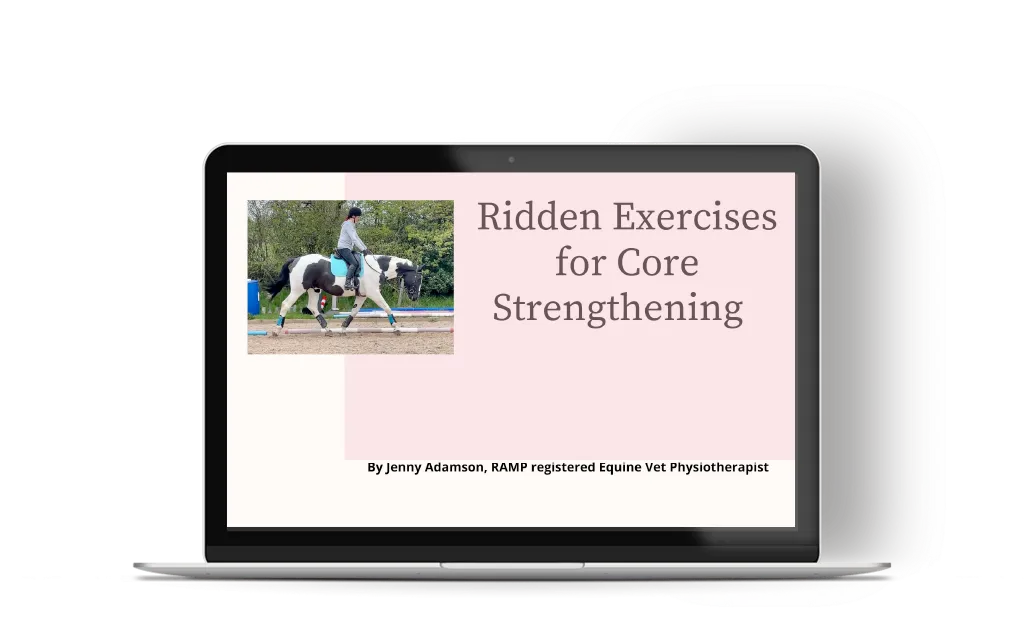 Here's what you'll get...
The Best & Most Effective Ways To Train, Exercise, Rehab & Manage Your Horse, So That Your Horse Can Be The Very Best Version Of Themselves!
_________________________________________
With My 12yrs Experience, & 40 Years Of Horse Ownership, I'm Teaching You Not Only All Of My Training & Rehab Methods, But Also Management Strategies From Industry Leading Experts In Equine Nutrition, Equine Behaviour & Rider Pilates!
01.
Strength & Straightness Training Programme
Access to my full training/rehab programme! Train your horse to move correctly, strengthen their body, improve their crookedness pattern, learn management strategies from industry leading experts to get your horse back to being the very best version of themselves…sound, comfortable, well, happy.
02.
Regular Live Sessions In The Members Group
Ongoing support from Jenny, experienced and knowledgeable Equine Physio and Rehab Specialist and the author of the programme! Motivation, question sessions, brainstorming, technique and training discussions…everything you need to IMPLEMENT the training.
03.
NEW Training Module Arriving Every Month
Continued learning from Jenny and equine industry professionals! Horses are a lifelong learning type of hobby/profession, so continue your learning each month in this programme.
This Is For You If
You're An Action Taker
_______________________________________
You Are Prepared To Make Changes
_______________________________________
You Want To Take Advice & Implement Training
_______________________________________
You Are Committed To Improving Your Horse
_______________________________________
Your Horse's Welfare & Happiness Comes Before Anything Else
It's Probably Not For You If
You're Not Really An Action Taker
_______________________________________
You Want Things To Happen By Magic
_______________________________________
You Don't Want To Do The Work
_______________________________________
You Don't Have Time To Commit To Your Horse
_______________________________________
You Only Make It To The Stables When You Have The Spare Time
"
I have learned so much, I can't thank Jenny enough!
- JANICE, COURSE MEMBER
Hi I'm Jenny Adamson!
...and just 5 years ago, I was stuck with my horse Azuro, looking for solutions to the problem we had, which was the devastating diagnosis of 'kissing spine'. Going through this as a horse owner was completely different to working with clients horses. I felt alone, stuck, miserable, stressed, couldn't see a way forward with him, had no idea when I would be able to ride my beautiful and talented horse again.

I decided to try out lots of new/different methods of working his body, to unlock the long term compensation patterns, and ultimately found what WORKS to successfully rehab and retrain sore, stuck bodies AND rehab the horses mind back to the positive too!

My 12 years experience in Equine Physio, Rehab, Training and Spinal Manipulation Therapy, along with my personal experiences, give me a rather unique way of looking at horses and training. I KNOW what needs to happen for horses to bloom and flourish in their work, and I'm going to show you in this programme!
Donna Robinson

I found Jenny on Facebook after my mare was diagnosed with kissing spine. I didn't know much about it and was looking for more information. After listening to a week-long talk from Jenny on posture, I decided to join her membership group. I started implementing her exercises with all of my horses and the changes in their posture and core strength has been remarkable. I enjoy her FB live talks, and it's so nice to be able to ask questions and actually get them answered. Jenny is so accessible to everyone in the group and her encouragement is fantastic.
Caryn Parli

I found Jenny on FB last summer while researching some of the struggles I was having with my three horses. I have a 32 year old gelding I want to keep comfortable for his senior years, a 19 year old retired cutter with hock spurs and a prior tendon injury as well as head shaking syndrome, and a 5 year old reining bred filly with NPA who I'm trying to get back into work after being off due to hoof and back soreness. I joined her membership after listening to her free talk on posture and have been so glad I did. I am learning so much and love the support from the group! Jenny really gives horse owners the tools they need to rehab and maintain their horses. After applying Jenny's exercises for just a month, my equine chiropractor commented they were better than she had ever seen them. I can't say enough good things about Jenny and the content she has put together for her members. I am forever grateful!
Janice Masone

I found Jenny on Facebook last year when I was really in a dark place with my mare. I have learned so much, from assessing crookedness and posture. Her instructional videos and blog are very accessible and easy to understand and over the months I have really seen the benefits to my horse and the vet has seen a huge difference in her having seen her at the beginning of our journey and then a few months in. I can't thank Jenny enough, and I would highly recommend her.
Helen

I first found Jenny's ebooks online during lockdown when I was trying to help my 'not quite right' and still not diagnosed Welsh D. I subsequently joined the Members Enclosure and find the content well laid out and professional. The whole programme and format of blogs, videos, Q and A's and other sessions is a great learning tool and I like that the content could be used with any horse either to help rehabilitate or because it's just really good stuff for them to be doing regularly. Thanks Jenny
Louise

I have known Jenny for quite some time now and she has helped me loads with my horse and I have learnt so much from her along with way and still learning. I have joined her group and there is loads of video talks, live Q&A, so if you need to ask more questions or get more information. It's a great group to be in and the members are nice and helpful or you can post a question in the members group and Jenny will get back to you and help anyway she can and support you. It is great for any level that you are at with your horse.
Alison

So glad I found this group. I've had soundness issues with my horse for some time. It's hard to keep going and this group has given me the support to do that. Jenny is super helpful, positive and inspiring. The online information explains everything really well and I feel I have a good understanding of exactly how to do the exercises with my horse. Whenever I've posted a question / photos/ videos, Jenny has always responded with an insightful and timely reply.

Thank you so much!
Is This Programme For Me?
Can I Cancel My Subscription?
How Much Time Will I Need To Invest?
What If I Can't Make The Live Sessions?
I'm New To Training / Rehabbing My Horse, Is This Programme Suitable?
What If I Have Questions About The Training?
Let's Get Started...

Join now for instant access!
You will get access to the ENTIRE back catalogue of training modules, developed over the last 2.5 years!


Let's get you back to riding and enjoying your horse, by moving through the process with professional, friendly support!
YES I WANT IN!